Millions of years of history in 20,000 square feet. Fossils to fossil fuels. People, places, and things.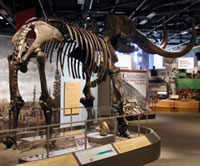 It's difficult to sum up the Heritage Center's Main Gallery in just a few words. The Main Gallery is the focal point of the State Historical Society's exhibits program. Incorporating the disciplines of palenotology, archeology, and history, the Main Gallery explores North Dakota's history through five exhibit areas. Thousands of objects and photographs are on display, each with their own story to tell. Walking through the Main Gallery is like walking through time - stand under a mastodon, sit in a 2,500 year old dwelling, smell a bison, or read the North Dakota state constitution.
Corridor of Time
Two exhibits showing what life was like in present-day North Dakota millions of years ago, before human habitation.The Corridor of Time depicts life during the Late Cretaceous (about 65 million years ago) and early Paleocene (60 million years ago) periods –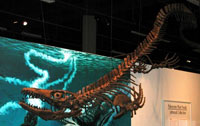 a time when the region's climate and environment resembled that of the Florida Everglades. Paleontological exhibits at the Heritage Center and other Society administered sites, have been developed in cooperation with the North Dakota Geological Survey (NDGS). The North Dakota State Fossil Collection and NDGS state Paleontologist are located in the North Dakota Heritage Center.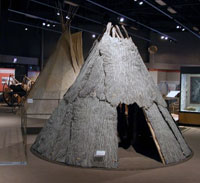 First People
How did the first people come to what would be North Dakota and how did they live? Archeological investigations have documented the presence of big game hunting cultures after the retreat of the glaciers and later settlements of hunting and gathering, and farming peoples. Featuring objects from 10,000 B.C.E. to the 18th century, including a reproduction of the oldest house ever excavated in North Dakota, 550-410 B.C.E.
Era of Change
Euro-Americans first came to what would become North Dakota in the 18th century – they came to explore, to trade, and later to settle. When they arrived, distinct Native American groups already called the northern great plains home. These included the Dakota, Assiniboine, Cheyenne, Mandan, Hidatsa, and Arikara.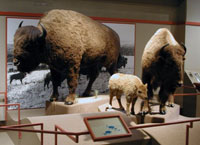 Groups of Chippewa moved into the northern Red River valley around 1800, and Cree, Blackfoot, and Crow frequented the western buffalo ranges. Over the course of a century and a half, Native groups witnessed their population decimated by disease, the bison herds almost exterminated, the land surveyed and opened for settlement, and eventually their way of life constrained in the boundaries of reservations.
Settlement Era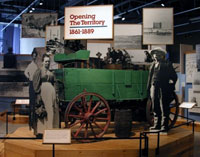 Euro-American settlement of the Northern Plains commenced in earnest after 1861, when Dakota Territory was organized by Congress. New railroads hastened settlement and a first settlement "boom" occurred between 1879 and 1886 with a second following after 1905. The majority of these new residents were farmers, often immigrants, so many that by 1915 over 79% of North Dakotans were either immigrants or children of immigrants. This area of the gallery explores the development of the state's infrastructure and the people who were its foundation.
Birds of North Dakota
North Dakota is home to almost 200 species of birds. In addition, the state plays host to millions of migrating birds every year, which stop to rest and eat on their journeys along the central flyway of North America. They are attracted to the large amounts of open space and diverse habitats that provide breeding grounds, nesting areas, and ample food. The Birds of North Dakota exhibit has been a visitor favorite since the State Historical Society was located in the Liberty Memorial building on the state capitol grounds. It was one of the first exhibits installed, by popular demand, after the new North Dakota Heritage Center opened in 1981.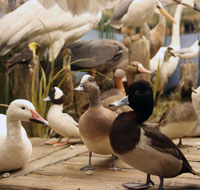 Agency staff knew that an expanded Heritage Center had to have some version of the Birds of North Dakota exhibit, but the current display needed to be updated. Legislative funding in the 2009-11 biennium allowed the project to move forward. Andre and Associates of Victoria, British Columbia, were selected to design and fabricate an exhibit that would not only fit in the Heritage Center's current main gallery but also be easily moved into the expanded Heritage Center. Hundreds of bird specimens are on display, including a rare example of the extinct passenger pigeon, in addition to bird-related artifacts such as hunting stamp art and decoys.