Creating Sakakawea
This exhibit is currently on display in the James E. Sperry Gallery. For over 200 years Sakakawea has fascinated the American public, becoming a symbol variously for women's suffrage, manifest destiny, and most recently American Indian cultural inclusivity. For even more information, images, and resources than present in the James E. Sperry Gallery exhibit, please visit the expanded
Creating Sakakawea Online Exhibit
.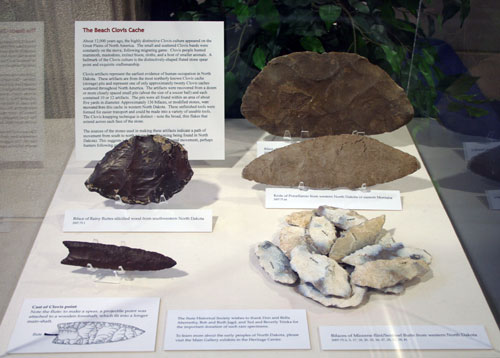 Clovis Artifacts
Currently on display in the Heritage Center lobby, these Clovis artifacts represent the earliest evidence of human occupation in North Dakota. A hallmark of the Clovis culture is the distinctively-shaped fluted stone spear point and exquisite craftsmanship.
The State Historical Society wishes to thank Don and Rella Abernethy, Bob and Ruth Jagd, and Ted and Beverly Trinka for the important donation of such rare specimens.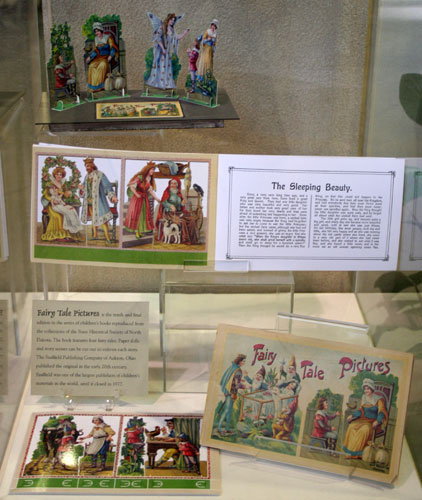 Fairy Tale Pictures
Also on display in the Heritage Center lobby, Fairy Tale Pictures is the tenth and final edition in our series of children's books reproduced from the collections of the State Historical Society of North Dakota. This book includes four fairy tales (Jack and the Beanstalk, Sleeping Beauty, The Frog Prince, and Little Snow-White) accompanied by colorful matching characters that were meant to be cut out and enjoyed. We are including an extra set of the character pages so that you can appreciate both the intact book AND cut out the characters as originally intended.
Fairy Tale Pictures was donated by M. Victor Johnson, of Grano, North Dakota; reprints are available for purchase in the Museum Store.